Peek-A-Boo!  We Care About The Environment!
Hi.  My name is Pip, and I am addicted to boxes...... 
I don't care what size they are, bring them on!  I love to play in them, chew them, hide behind them. 
Sometimes I sneak up on my humans when they are packing your boxes, and bite right into the top of the box!  No kidding!  It's awesome.  (Hey, I don't eat the stuff, rip it off and toss it around the room!)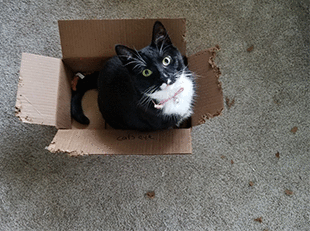 But seriously, shipping materials are both expensive and wasteful, so whenever possible, my Humans use recycled materials when they ship to you. 
Your packages arrive safe, and they've tried to help the environment just a little bit.  In fact, they use recycled foam peanuts and shredded newspaper (my favorite)!
So, friends, ask your humans to pass the boxes onto you to play in, or to whoever can use them.  Every little bit helps!