Welcome to my thoughts about, you know... stuff.
Okay, I admit it. Except for eating, I am not thinking about anything.
Check back after my nap... things might change!
5/1/18
While my humans were in Reading, PA they found the coolest cat housing behind a local restaurant. Turns out this really nice human had built it and goes daily to feed and care for the local homeless cats. Look at these really cool pics!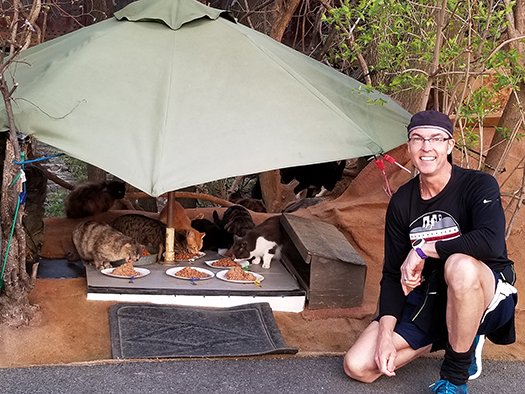 4/20/18
Well, my human is off on another insane adventure - without me! She's heading to The Riveredge in Reading, PA
for the Lehigh Valley Cat Club Cat Show- it'a a TICA show, and she hopes to see my buddy Rollo there. Rollo was the cover of the fall 2017 catalog.


My Human's Crazy Schedule for 2018
| | | |
| --- | --- | --- |
| 5/5/18 | SEACOAST | EVERETT ARENA CONCORD, NH |
| 5/19/18 | ALMOST HEAVEN & GREAT LAKES CAT CLUBS | CIVIC CENTER CHARLESTON, WV |
| 5/26-27/18 | SIAMESE ALLIANCE & GREATER LANCASTER FELINE FANCIERS | EXPO CENTER YORK, PA |
| 6/9-10/18 | STAR CITY HOSTS "SOUTHERN HOSPITALITY" REGIONAL | BERGLAND CENTER ROANOKE, VA |
| 7/7-10/18 | SHORE LEAVE 40 | HUNT VALLEY, MD |
| 7/14-15/18 | TRIPLE CROWN CAT FANCIERS | KENTUCKY INDOOR, LEXINGTON KY |
| 7/21-22/18 | GARDEN STATE CAT SHOW | NJ CONVENTION & EXHIBITION CENTER, EDISON NJ |
| 9/8-9/18 | PAWS AND CLAWS TICA ANNUAL | BIRMINGHAM AL |
| 10/13-14/18 | CFA INTERNATIONAL SHOW | I-X CENTER, CLEVELAND, OH |
| 10/27-29/18 | QUOTA SHOW | CIVIC CENTER, SALISBURY, MD |
| 11/28/18 – 12/2/18 | PA CHRISTMAS SHOW | PA FARM SHOW COMPLEX, HARRISBURG, PA |