Welcome to my thoughts about, you know... stuff.
            Okay, I admit it. Except for eating, I am not thinking about anything. 
Check back after my nap... things might change! 
5/11/19
           Wow.  So much has happened since I last wrote to you guys.  I've opened a new store in Chincoteague, VA!  YES!  It's me and the wild ponies, who would have thought that dreams could come true for a little kitty like me?  
            In the new store, I've go so many different and unique items, not just for cat lovers anymore, but for dog and puppy lovers and pony lovers too!  My human has sure been busy and I've done my best to supervise her, but you know how that goes.  Humans only listen so much.  
     Seriously, the store is right near the beach and the store is definitely dog friendly! 
    While she and her husband, my dad, were busy setting up the store, I wrote a book. (Yes, she edited it.) But I had a lot of people asking me how to nap like a cat, and well, I put it into simple language and 6 simple steps for humans to follow.  It's called, "THE ART OF CATNAPPING - A SIX-STEP PROGRAM FOR HUMANS".  You can order it here on the website, or from Amazon.  I hope you like it! And don't fall asleep reading it - hahahahahahaha. 
5/1/18
While my humans were in Reading, PA they found the coolest cat housing behind a local restaurant.  Turns out this really nice human had built it and goes daily to feed and care for the local homeless cats.  Look at these really cool pics!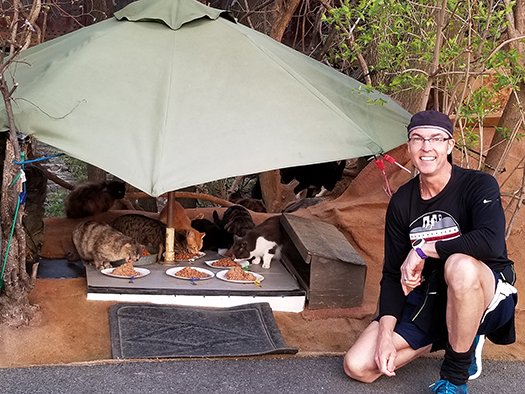 4/20/18
Well, my human is off on another insane adventure - without me!  She's heading to The Riveredge in Reading, PA
 for the Lehigh Valley Cat Club Cat Show- it'a a TICA show, and she hopes to see my buddy Rollo there.  Rollo was the cover  of the fall 2017 catalog. 


My Human's Crazy Schedule for 2018
| | | |
| --- | --- | --- |
| 5/5/18 | SEACOAST | EVERETT ARENA CONCORD, NH |
| 5/19/18 | ALMOST HEAVEN & GREAT LAKES CAT CLUBS | CIVIC CENTER CHARLESTON, WV |
| 5/26-27/18 | SIAMESE ALLIANCE & GREATER LANCASTER FELINE FANCIERS | EXPO CENTER YORK, PA |
| 6/9-10/18 | STAR CITY HOSTS "SOUTHERN HOSPITALITY"  REGIONAL | BERGLAND CENTER ROANOKE, VA |
| 7/7-10/18 | SHORE LEAVE 40 | HUNT VALLEY, MD |
| 7/14-15/18 | TRIPLE CROWN CAT FANCIERS | KENTUCKY INDOOR, LEXINGTON KY |
| 7/21-22/18 | GARDEN STATE CAT SHOW | NJ CONVENTION & EXHIBITION CENTER, EDISON NJ |
| 9/8-9/18 | PAWS AND CLAWS TICA ANNUAL | BIRMINGHAM AL |
| 10/13-14/18 | CFA INTERNATIONAL SHOW | I-X CENTER, CLEVELAND, OH |
| 10/27-29/18 | QUOTA SHOW | CIVIC CENTER, SALISBURY, MD |
| 11/28/18 – 12/2/18 | PA CHRISTMAS SHOW | PA FARM SHOW COMPLEX, HARRISBURG, PA |