A YEAR OF CAT TRIVIA - 2020 - CALENDAR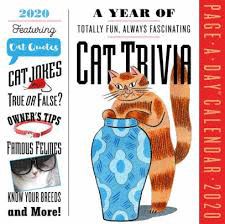 A YEAR OF CAT TRIVIA - 2020 - CALENDAR
A YEAR OF CAT TRIVIA - 2020 - CALENDAR

Q: HOW FAST DOES A CAT'S HEART BEAT?
Did you know that each cat's nose print is unique, much like a human fingerprints? Or that many cats have "neophila" meaning they prefer new things (like toys and treats) to old ones?
This charming ode to felines features day after day of owner's tips, quirky jokes, What Breed Am I? quizzes, unexpected facts, and humorous quotes from famous fans!
wk-1419