4 Cat Coasters + 1 Basket = Tons of Fun! Jute Cat Coaster Set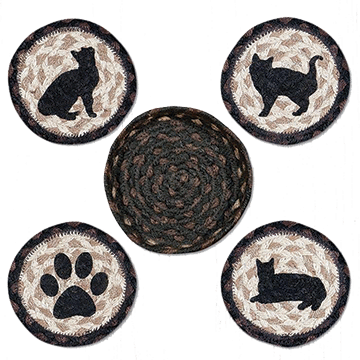 4 Cat Coasters + 1 Basket = Tons of Fun! Jute Cat Coaster Set
Coasters That Make You Want To Go PURRRRRRR
Let's face it.  My humans know they should use a coaster, but they've been looking at their mother's coasters for years and just hadn't found the right one for themselves.  And now, they have!
And yes, I know my human doesn't want me knocking things over... but does she really think I won't just because she puts her glass on these adorable coasters? 
Made from 100 percent jute fibers.  Each measures 5" round. Set of 4 coasters in a basket.