Bling It On V-Neck 3/4 Sleeve 100 Percent Cotton Shirts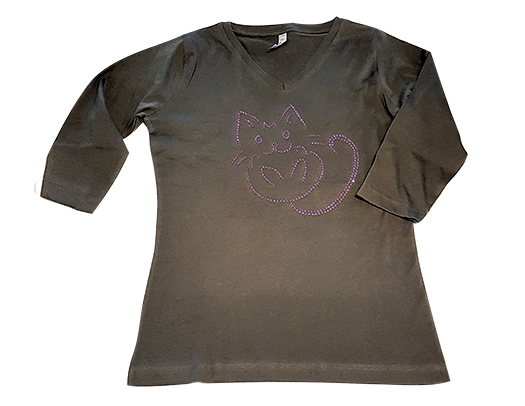 Bling It On V-Neck 3/4 Sleeve 100 Percent Cotton Shirts
Bling It On V-Neck 3/4 Sleeve 100 Percent Cotton Shirts!
Bring it on! Or bling it on shirts! Wear this eye-catching design of purple rhinestone kitties arranged on your favorite shirt. Look spectacular! Feel spectacular! Purr!
E34VG V-neck 3/4 Sleeve — GRAY ONLY— 100 Percent Cotton $33.95
Sizes: S, M, L, XL, 2X (GRAY ONLY)
HOWEVER: there are some EGGPLANT shirts still available. You should be able to select them when ordering! They have been discontinued, so supplies are limited. If Eggplant in your size has run out, the GRAY V-Neck 3/4 Sleeve will be substituted.