Crystal Glass Black Cat Nail File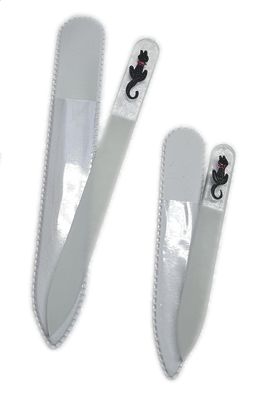 Crystal Glass Black Cat Nail File
For Purrfect Claws – I mean NAILS!
Tempered & hardened* crystal glass gives both natural and artificial nails a remarkably flawless edge.  File can be used in both directions without the risk of tearing, chipping or ripping the nails.  As you file, your nail edge seals, keeping moisture and bacteria out. The crystal files are nonporous (can be used wet or dry) and will not harbor bacteria.  The file includes a hard-plastic tube which makes it great for the purse or wallet, and of course the manicure size (5½" long) file is purrfect for home or office.  Can be used on your cat's or dog's claws too! Made in the USA.

* Remember, crystal glass files are not guaranteed against breakage. Always use care while using to avoid dropping on tile floors or other hard surface.


The smaller file also shown is no longer available!


SH-316