"IN A CAT'S EYE" Membership Club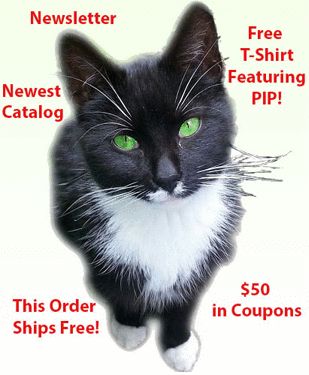 IN A CAT'S EYE Membership Club
IN A CAT'S EYE Membership Club 1-Year
(over $85 in value for only $49.95 - Start saving NOW!)
To thank our loyal customers, we'd like to offer our Membership Club.
Join for one year and start saving today.
Benefit 1:
Start saving immediately! Join now

for
FREE SHIPPING on this order. Plus there are special value deals available on select items. (But due to website difficulties, the special pricing offer will not work online. Please call us or mail your order and payment including shipping and handling to PO Box 328, Princess Anne, MD 21853)
Benefit 2:
Join now

and we'll send, at no additional cost

, our

classic T-Shirt of Pip.

(A $24.95 value.)

Be sure to specify your size!
Benefit 3:
Join now

and you'll receive our
newest catalog
with the most enticing gifts for yourself and your cat.
Benefit 4: Join now and you'll receive our Membership Club Mewsletter with the newest merchandise, updates on the activities of our Chairpurrson, Pip and the animal protection organizations we are helping.
Benefit 5: Join now and we'll send you five $10 coupons to be used over the course of the year on orders over $50. (A $50 value - this benefit alone covers the entire cost of your membership!)
PIP-101