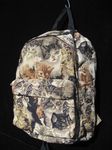 Tapestry Cats Backpack
These Tapestry Cats Have What You Need To Carry Everything!
This tapestry cats backpack is large enough for what you need and classy enough for what you don't!  Enjoy these cats as they surround your 

15" by 12" by 4" backpack. 

  Zip closure.  Front zip pocket too!

As with all the tapestry cats, the placement of the cats may vary. 

SB-1819