Tapestry Cats Change Purse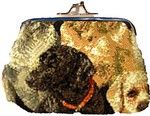 Tapestry Cats Change Purse
These Tapestry Dogs Love to Carry Everything!
These tapestry puppies are on the go and ready to be of service!  The Tapestry Puppies Change Purse (4" by 3" by 2") can securely hold all your loot within two fully lined sections.
As with all the tapestry items, the placement of the cats may vary. 
SB-1919