Two Catnip Wine "Bottles" For Sophisticated Cats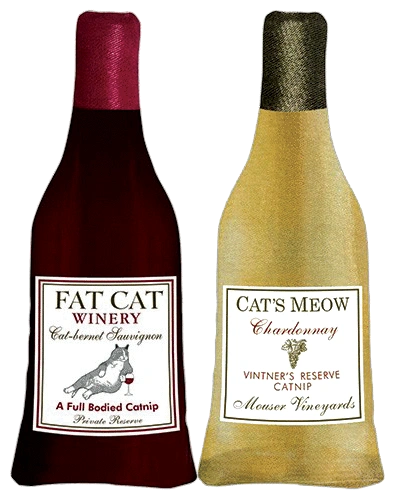 Two Catnip Wine "Bottles" For Sophisticated Cats
Two Catnip Wine "Bottles" For Sophisticated Cats
Yes, I know.  My human reminds me all the time.  One is enough, she says!  But one is never enough so I've asked her to include two of these purrfect wine bottle-shaped catnip toys.  Two, because one is never enough! 

And "wine" don't even get me started on what I could do with that.. because of course my human meant "Whine".  She always thinks I am whining about something... well, not enough food in my dish is something! and not getting my belly rubbed correctly is something! and she goes out - yes, out, and leaves me home alone for hours sometimes.. and that's not something?  The caption should read:
 Two Catnip "Wine" Bottles For Sophisticated Humans
to Bring Home To Their Cats
To Make Up For Their Incessant Human Behavior Problems
That We Felines Put Up With Day In And Day Out!
But if I said all that, she might not appreciate it.  : ) Meow!

Filled with premium catnip grown in North America without the use of pesticides or chemicals.  Each comes individually packaged in a cello bag.  All new material.  Made in the USA.  Patterns and Wine Names differ!
AC-918  Two Catnip Wine "Bottles"