What Cat's Teach Us 2019 Engagement Calendar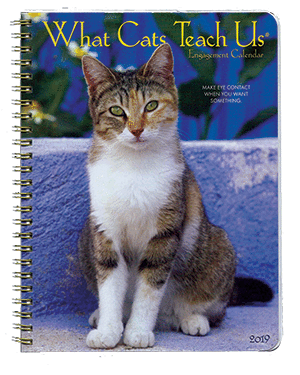 What Cat's Teach Us 2019 Engagement Calendar
This WHAT CAT'S TEACH US 2019 Engagement Calendar Has It All!
From wisdom to practicality, don't miss a moment.  Learn life's lessons from these extraordinary cats and know where all your important information is at the same time. From contacts to dates to remember, with so much room for notes, this engagement calendar is a must have!  Twenty-five lessons.  Makes a purrfect cat lover's gift!  
The cover cat teaches: MAKE EYE CONTACT WHEN YOU WANT SOMETHING. 
The May kittens shown teach: TREASURE YOUR FRIENDSHIPS
Two great pictures and wonderful lessons per month!
WC-918
What Cat's Teach Us Engagement Calendar
$14.95
ON SALE NOW!  FOR $12.95